PUBG download: Mac workarounds
Since the game still lacks macOS support, it's necessary to employ a PUBG download Mac workaround to be able to play the game on an Apple machine. Another alternative that will simply remove the need to download the game in the first place is to use Boosteroid – a cloud gaming service that enables you to stream the popular battle royale over the Internet. Whether you choose to perform PUBG Mac download via workaround methods or directly stream the game with Boosteroid, there are indeed ways to enjoy this title on an Apple computer despite its continuing lack of support for macOS.
Table of Contents:
Our recommended method to play PUBG
Other methods to play PUBG
Our review of PUBG
Mac-related PUBG topics
Is there PUBG for Mac?
Even though the game is highly popular and already has an iOS version, there's still no support for PUBG for Mac. However, this obstacle is not enough to fully prevent Mac users from enjoying the game on their computers, whether they are older Intel-based models, or new and powerful M1 and M2 machines. The most universal method that we recommend to all Mac users is Boosteroid cloud gaming. But if you want to play the game locally, by first downloading it, a possible way to get PUBG for Mac is to emulate its mobile version through the two emulator apps we mentioned. And then there's also the Boot Camp method, which is also a good option if you have an Intel Mac with decent hardware specs.
Is PUBG on Mac?
PUBG isn't on Mac and likely never will be, but if you are eager to play this game on your Apple computer, we assure you that there's a way. Down this page, we will cover all viable methods that can allow you to have fun with the free battle royale game without needing to get a separate gaming PC. However, note that none of the methods is without any flaws and each of them shines in different situations and with different setups, so be sure to first learn about the pros and cons of the methods before you decide which one to use to play PUBG on Mac.
The PUBG MacBook solutions
The reason we recommend cloud gaming as the best PUBG MacBook solution is that it will work on any Mac, irrespective of whether the model is with an Intel or an M1/M2 chip and whether it meets the game's requirements. Another plus is the quick and easy setup that can be performed in less than 10 minutes. On the other hand, the main downside of cloud gaming is its high reliance on the user's Internet. If your connection isn't fast and stable, your PUBG MacBook experience won't be great. The image quality will be degraded and you'll experience stuttering. The good news is that the Internet requirements aren't very high, so as long as your connection has a speed of 25 Mbps and no more than 40 ms latency, you'll be fine.
As for the two emulation options, PlayCover works only on Apple Silicon machines and BlueStacks, only on Intel Macs, so both types of models are covered. However, since you'll be playing the mobile version of PUBG on your Mac, the experience won't be the same as if you were playing the PC version. But the main downside of both of these methods is that there's a possibility that your account may get banned, as there have been reports of this happening with players who emulated PUBG mobile versions on Mac.
Finally, Boot Camp works fine, but takes a while to set up and requires around 100 gigs of free space since you'll be installing both the game and the Windows OS on your Mac. Additionally, since PUBG isn't the lightest game, your Mac will need to have some decent hardware to be able to run it. Finally, you can use this method to only play PUBG on Mac models with Intel CPUs and not on M1 or M2 machines.
Will there be PUBG macOS support?
It's unlikely that there will ever be PUBG macOS support, considering the game has been out for over six years, and it still hasn't been ported to Mac, despite its availability for iOS. Not only that, but the game's use of the BattleEye anti-cheat makes it impossible to play the PC version of PUBG through compatibility layers, such as Apple's Game Porting Toolkit or CrossOver. Parallels is also not an option for circumventing the lack of PUBG macOS support for the same reason. As you can see, this severely limits the ways you can enjoy this game on an Apple computer, yet, despite this, there are still ways to overcome this obstacle.
Can you play PUBG on Mac?
To sum up, you can indeed play PUBG on Mac and there are four ways to do this. The first one and the one we recommend is to stream the game with Boosteroid cloud gaming. The second and third options rely on emulating the mobile versions of PUBG with the help of BlueStacks and PlayCover. The fourth and final method to play PUBG on Mac is well-known Boot Camp method, which will eventually become obsolete, once people stop using Intel Macs, replacing them with their Apple Silicon counterparts. Now, it is time to show you how each of the four mentioned methods is used in our detailed tutorials provided below.
How to play PUBG on Mac?
To play PUBG on Mac, first decide which of the mentioned methods fits your needs the best and then follow the respective instructions below. If you choose to use Boosteroid, all you'll need to do is register on its site, begin your subscription, and start the game either in your browser or in the dedicated Boosteroid macOS app. With the two mobile game emulators, and especially with PlayCover, there are a bit more setup steps. Finally, to play PUBG with Boot Camp, you will first need to use the tool to install Windows on your machine, and then you'll need to download the PC version of the game within the Windows partition.
How to play PUBG mobile for Mac
To play PUBG mobile for Mac, the workaround method you can use will depend on the type of Mac you have. For Intel-based machines, you'll have to use the BlueStacks app to emulate the Android version of the game and run it on your Mac. If you own an M1 or M2 machine, the method to get PUBG mobile for Mac is through PlayCover. The app works similarly to BlueStacks, but it's exclusive for Apple Silicon Macs and offers more customization options, but also has a lengthier setup process. The process of using both apps has been explained in our in-depth tutorials that you can find right below.
PUBG Mac M1 options
The only PUBG Mac M1 workarounds out of the four methods mentioned above are Boosteroid and PlayCover. The BlueStacks app is yet to receive support for Apple Silicon, and Boot Camp doesn't work on M1 and M2 machines because the ARM 64 architecture of their chips is incompatible with Windows. The two ways to use Boosteroid are through the browser or through its dedicated macOS app, so both options work on Apple Silicon machines. As for PlayCover, the other PUBG Mac M1 workaround, the app is exclusive to Apple Silicon machines, so it will work great for emulating the mobile version of the game.
How to Play PUBG on Mac With Boosteroid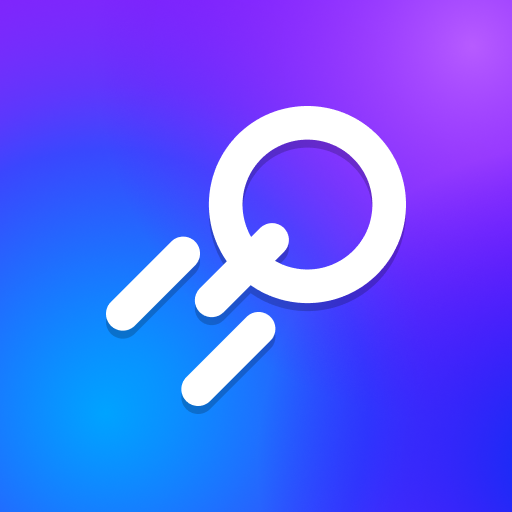 Playing PUBG on Mac can be challenging, as the game does not have official support for macOS. Fortunately, there are alternative solutions like Boosteroid that allow Mac users to play the game seamlessly without having to worry about hardware requirements and storage limitations.
Step 1: Create a Boosteroid Account
First, you need to create a Boosteroid account by accessing the Boosteroid website through the button provided below. Once you arrive on the Boosteroid website, you can create an account or log in with your Google Account credentials to access the platform's numerous benefits.
Step 2: Access Your Profile Details
After successfully logging in, navigate to the top-right corner of your screen and select "My account" to access your profile details.
Step 3: Activate a Plan
Activate a plan by selecting the "My subscription" option to start enjoying the benefits of Boosteroid without any limitations and to be able to play any of the games available in the service's Library.
Step 4: Find the game in the Game Library
After activating your subscription, make use of the search field to find the game that you want to play (in this case, PUBG), and click on it to start the installation process.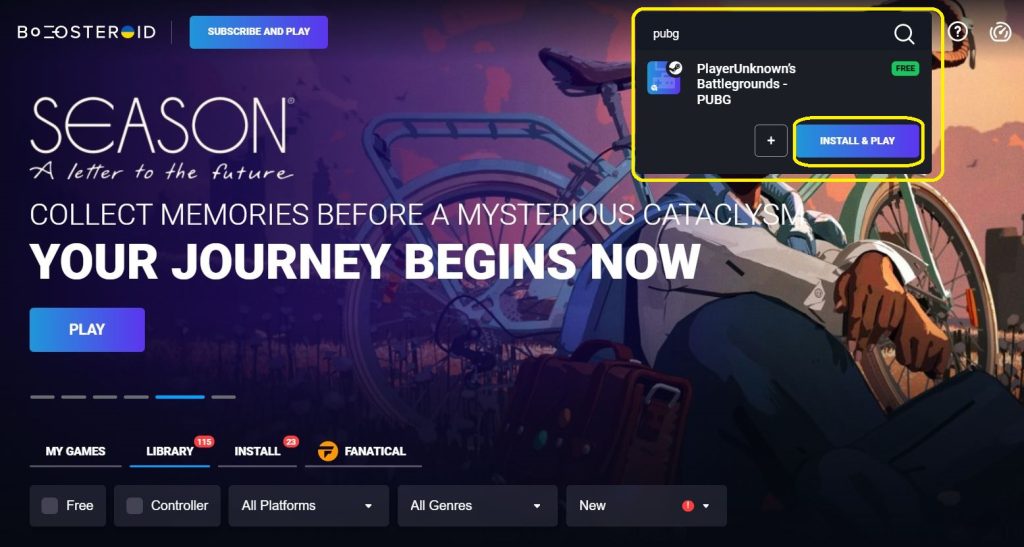 Step 5: Play the game
Click on the "Install & Play" button, then click "OK, let's go" and wait for Steam to load. You'll be required to enter your Steam details if this is your first time playing a Steam game through Boosteroid, so do that and the game will begin.
How to Play PUBG on Mac with BlueStacks
BlueStacks Android emulator is a great option that enables you to run Android apps and games, including PUBG, on Mac.
How to Play PUBG on Mac with PlayCover
If you are using an M1 or M2 Mac, you won't be able to use BlueStacks, but there's another similar app called PlayCover, that lets you run the iOS version of PUBG and is exclusive for Apple Silicon machines.
How to Play PUBG on Mac With BootCamp
You can access and play PUBG on Mac with Boot Camp just as you would on a Windows PC.
PUBG Reviewed by a Mac User
In the tumultuous landscape of battle royale games, PUBG (PlayerUnknown's Battlegrounds) stands as a pillar of raw, unadulterated survivalism, proving that while trends may come and go, a well-structured battle to be the last one standing can stand the test of time. However, it's worth noting right off the bat that Mac users are, unfortunately, left stranded on the sidelines, missing out on all the 'Chicken Dinners' their heart could desire. It is, to date, a no-Mac affair, a slight that Mac aficionados, without a doubt, feel deep in their cores as they are left harboring unfulfilled battle royale dreams.
Diving straight into the crux of PUBG's resiliency in the saturated market, one cannot ignore the tantalizing thrill of the game's realistic mechanics. Weapons feel grounded, with each trigger pull resonating with a gratifying feedback that urges the player to master the art of warfare. While it may not boast the most vibrant palette or fantastical elements that its competitors flaunt with grace, PUBG chooses to walk the path of realism, where your virtual boots feel firmly planted in the mud and grit of its expansive battlegrounds.
The terrains offered in PUBG range from the thick forests of Sanhok to the deserts of Miramar, each providing a unique backdrop for the ensuing chaos. These landscapes are more than just pretty facades; they play a critical role in strategizing your route to victory. Utilizing the natural undulations of the landscapes can grant a tactical advantage, fostering a rich and dynamic battlefield where intellect can triumph over agility.
Then there's the looming threat of the shrinking play area, a mechanic that forces confrontation and prevents players from adopting a purely pacifist approach to victory. This encroaching danger effectively funnels players into tighter and tighter spaces, setting the stage for heart-pounding final showdowns where the margin for error is less than a Mac user's hope for a compatible version.
However, it's not all gunfire and strategic retreats; PUBG fosters moments of eerie quietude, where the only sounds permeating your eardrums are the distant pops of gunfire and the personal narrative you craft with each cautious step. These quieter moments, harmonized with the intense firefights, weave an experience that oscillates between nerve-wracking anticipation and adrenal chaos, creating a rich tapestry of emergent storytelling which is as unpredictable as it is engaging.
But it's not without its drawbacks. Technically, PUBG has had its share of hiccups, and though many have been addressed over the years, it hasn't quite reached a polish comparable to some of its contemporaries. The graphics, while serviceable, won't win any awards for fidelity. Moreover, the conspicuous absence of a Mac version feels like a missed opportunity to expand its dominion. Mac users, yet again, find themselves peeking through the window of the PUBG battlefield, hopeful yet unable to partake in the survival extravaganza.
All things considered, despite its age, PUBG still manages to offer an experience that captivates both veterans and newcomers to the battle royale genre. Thanks to a combination of grounded mechanics and strategical depth, the game remains relevant even today, with the abundance of so many other titles in this now overcrowded genre. While the no-Mac-allowed sign hangs heavily at its gates, PUBG continues to offer a battle royale experience that is both raw and satisfyingly rewarding for those determined to emerge victorious in the competitive road to a 'Chicken Dinner'. And as for the Mac side of things, despite the lack of a native port, as we've shown in this post, where there's a will, there's a way. So, if the granddaddy of battle royales sounds like something that may still interest you in 2023, we can definitely recommend it to fans of the genre, even if their preferred operating system is macOS.